Great Start Collaborative & Parent Coalition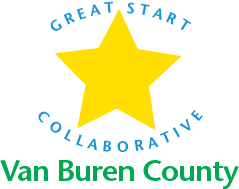 Van Buren's GREAT START Collaborative and Parent Coalition serve as the groups that work to make our county a supportive place for families with young children. Visit the website to find the most current happenings and connections to give our children a GREAT START. Be sure to sign up for the Parent Coalition email and Facebook lists.
For questions about our GREAT START Parent Coalition, contact Parent Liaison at email
CLICK HERE TO APPLY FOR FREE PRESCHOOL
Do you have questions about your child's development?